Louise Deroualle
Originally from Sao Paulo, Brazil, Louise Deroualle moved to the U.S. in 2013 to pursue a master's degree in ceramics at the University of Nebraska, Lincoln. She is currently a lecturer of art at the University of North Carolina, Asheville. Prior to moving to North Carolina, she was the studio coordinator of ceramics at Anderson Ranch Arts Center in Colorado for four years. She exhibits nationally and has been awarded competitive residencies and fellowships, including the Roswell Artist-in-Residency and The Aspen Art Museum Fellowship.
Demonstration description:
I will demonstrate the various processes I use in my studio practice to create my artwork. Each body of work asks for different ways of thinking and manipulating the clay. I will show how I make and utilize different kinds of molds and how I work with slabs and coils to construct my seedpod shapes. I will share how I layer glazes and slips to create the expressive blue and white surfaces of the Seedpod series.
 Artist Statement: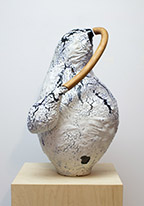 "My work is an abstract representation of me: my identity, the way in which I relate to others, and understand the environment I am in. I use ceramic materials to create formal abstractions that reveal different facets—physical, experiential, emotional—of myself. Working with clay is my form of being. The artwork I create is influenced by the different cultural experiences to which I have been exposed and the way those interactions build my identity. Cultural and language barriers provoke a sense of displacement and generate a wide range of emotional reactions that shape my perception of and interaction with the outer world. I translate those feelings into my objects through expressive surfaces created by the layering of ceramic materials. Like my own skin, the surface of my pieces are thin and fragile barriers between the internal and external world. And like skin, the cracks, blisters, and wrinkles that texture the surfaces of my works record time and stories, veiling, and yet revealing, who we are."
---
Sanam Emami

Sanam Emami is a studio potter living in Fort Collins, Colorado, with her husband Del Harrow and their son William. She received a B.A. in history from James Madison University, and an M.F.A. in ceramics from New York State College of Ceramics at Alfred University. Currently, she is an associate professor of pottery at Colorado State University. She was a visiting assistant professor in ceramics at Alfred University, resident artist at the Archie Bray Foundation in Montana, and has lectured at the Office for the Arts at Harvard University; the Kansas City Art Institute; Arizona State University Art Museum-Ceramic Research Center, and NCECA in Louisville, Kentucky. She received a New York Foundation for the Arts Grant for Craft, and her work has been in exhibitions at numerous galleries across the country including The Society of Arts and Crafts, Boston; The Art-Stream Nomadic Gallery; Harvey Meadows Gallery, Aspen; Schaller Gallery; and Hostler Burrows.
Demonstration description:
Pots are containers for food and ideas. Pots are forms with endless variations of shape and surface. During this symposium, I will be throwing pots for the table: serving dishes, plates, bowls, cups—and demonstrating surface decoration techniques with slip and stencils.  
artist statement:

"My pots and tiles are made with a specific intent—a function. Plates, cups, and tiles are ubiquitous, recognizable. The vases and their multiple spouts are curious when empty, when filled with flowers their function is revealed. The tile is a background or canvas. The cup provides a counterpoint—the curves and movement of the form interact with the surface pattern and imagery. The parameters of the functional pot simultaneously create boundaries and endless possibilities.
Ideas come from different places; a book, a conversation, or a glimpse of something familiar like a favorite historical pot that can seem new, as if seen for the first time. The studio space is where the concepts and inspiration take shape and become tangible and dimensional. The concept of unity with variety is important; for example, combining soft marks and volumes with crisp edges and lines. I am interested in creating contrasting gestures that can coexist within a pot or a tile through mark making, symmetry, and repeated patterns.
As a student I was drawn to ceramics for its apparent connections with and veneration of "women's work." The deep history of clay seemed to reveal connections between women and the material, taking shape in depictions of domestic rituals and ancient fertility goddesses. This history of ceramics and its connections with slow, methodical work—less visible yet necessary for the survival of societies—has often been marginalized to the more dominant narratives of ceramics in 20th-century art: one of heroic virtuosity and singular objects."
---
Ursula Hargens

Ursula Hargens is a ceramic artist and educator based in Minneapolis. She is a three-time McKnight Artist Fellow, has received grants from the Jerome Foundation and Minnesota State Arts Board, and was named 2020 Ceramic Artist of the Year by Ceramics Monthly and Pottery Making Illustrated. Ursula has been a teaching artist for many years and is cofounder and head of Minnesota New Institute for Ceramic Education, an advanced certificate program in ceramics developed in 2014 in partnership with Northern Clay Center. She received an M.F.A. from the New York State College of Ceramics at Alfred University; an M.A. in art and art education from Columbia University, Teachers College; and studied ceramics at Nova Scotia College of Art and Design.
Demonstration Description:
In this series of demonstrations, I will discuss my recent return to tableware, creating thrown forms that are accessible and functional. I will throw, trim, and decorate pots using slip and underglaze. I will also focus on various decorative strategies—from spacing and composition on three-dimensional forms to building a decorative vocabulary of your own.
Artist Statement:

"I love pots, decoration, and ceramic history and am curious about how objects stand as a record of cultural values. I first began covering my pottery forms in flowers to reclaim a language of decoration. My work has shifted over the past decade as the public debate around environmental justice has come into sharper focus. I have moved from purely symbolic language to using flora to investigate themes of loss, shifting landscapes, and ecological change. Our impact on the environment and declining biodiversity can be difficult to comprehend in the abstract but focusing attention on an endangered forest wildflower can evoke an intimate sense of loss. More recently, I approached ecological change through a scientific lens, using data visualization techniques to inform surface design. Data points become decorative marks that use the language of line, color, and form to record the impacts of human activity.I recently returned to tableware, departing from large-scale decorative and collaborative work. Through these functional pots, I explore the fundamental building blocks of decoration–dots and lines. I enjoy the challenge of playing with this limited palette, delineating spaces within a form, and grouping elements to create simple motifs. As I work, I try to channel the quiet of an early morning or evoke the spirit of a favorite historical pot. I enjoy how a few well-placed decorative marks or dots of color can completely transform the gesture of a piece."
---
Adero Willard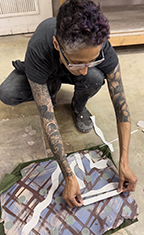 Adero Willard received a B.F.A. at Alfred University and an M.F.A. at Nova Scotia College of Art and Design in 2006. She has attended artist residencies and exhibited work nationally and internationally and her work has been featured in several publications and books on ceramics. Since 2014 she has been one of the cofounders of POW! Pots on Wheels, a nonprofit mobile clay education outreach project, and faculty support for IDEA lab: for social justice and cultural diversity. Adero is currently a visiting professor of ceramics at Alfred University College of Art and Design.
Demonstration Description:
I will demonstrate my playful approach to building vessels with decorated and textured slabs. During these demonstrations I will show how I build up layers of pattern and color, using paper resist, monoprinting, embossing, and brushwork. After a form is assembled, I will further alter the form and bring additional elements of color, pattern, and texture. While working I will share what inspires my most recent work, and discuss the deeper connections to color, pattern, nature, and identity that I derive from working in clay..
Artist Statement:
"A unifying thread in my work is the exploration of pattern as ordered chaos on my surfaces, constructing layer upon layer of colorful spinning circles, flipping flowers, meandering vines, industrial grids, and geometric planes. Red clay as the skin of the pot provides a richness and depth to the layers of surface that I build up with resists, underglaze, and multiple firings. The layering of touch, memory, and color in my process build upon a deep connection to the fluidity of my identity, while at the same time a conduit for connecting to my Cherokee and African American ancestry. Sharing this love for clay both as an artist and educator allows me to nurture a love of the arts, history, and of the handmade in myself and others."
---
Sana Musasama
Guest speaker – opening lecture
I began traveling over 45 years ago as a way to recover my identity and cultural place. Clay was a geographic catalyst that brought me first to West Africa and then to Japan, China, South America, and Cambodia. I love that Mother Nature makes it and it exists all over the world, so that I was able to work in very diverse studio practices, from simple pit-fired kilns in Africa to high-tech cone ten kilns in the United States. I have continued my quest and expanded my interest to tribal adornment practice in various Indigenous cultures. I am challenged by the concerns surrounding the safety of women, specifically the rituals involving the rites of passage, female chastity, and the purification of the female body. My work is transformed by history, women studies, culture, and my own travel journals.
As a woman artist and world solo traveler, I saw little girls first. I am indebted to the young girls who entered my daily rituals and guided me through village life. Often, I saw our roles switch like the seasons. At times, I was their mommy, at times they were mine. I began to observe their lives very carefully and I saw differences between my childhood and theirs, radical differences, and sometimes that difference was heart-wrenching. A 14-year-old girl married off to a man that was 38 years old. A little girl who couldn't go to school because there was only enough money for her brother. Their lives became monumental to me and became my subject matter. My work is about girls.
I received my B.A. from City College of New York in 1973 and my M.F.A. from Alfred University in 1988. I was awarded the 2022 Life Honorary Membership Award and the 2018 Outstanding Achievement Award from the National Council on Education for the Ceramic Arts (NCECA) for my years of teaching and my humanitarian work with victims of sex trafficking in Cambodia. I am the coordinator of the Apron Project, a sustainable entrepreneurial project for girls and young women reintegrated back into society after being forced into the commercial sex industry. In 2016, I was a guest speaker on "Activism through Art" at ROCA. I was interviewed by Cliff Hocker for an article titled "If I can Help Somebody: Sana Musasama's Art of Healing," which appeared in the International Review of African American Art. In 2015, the Museum of Art and Design in New York selected four of my sculptures from The Unspeakable Series for their private collection; I was awarded the ACLU of Michigan Art Prize 7 and Art Prize 8. In 2002, I was awarded Anonymous Was a Woman and I was featured in the 2001 Florence Biennial. My work is in multiple collections such as The Mint Museum in Charlotte, North Carolina; The Museum of Art and Design in New York, New York; the Cooper Hewitt Smithsonian Design Museum in New York, New York; the Hood Museum of Art in Hanover, New Hampshire; The Studio Museum in Harlem, New York; Schomburg Center for Research in Black Culture in Harlem, New York; Bluffton University in Bluffton, Ohio; and in numerous private collections. I live and work in New York.
artist statement: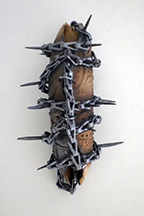 "My intention is to bring awareness to the human condition beyond the comfort zones that we may or may not live within, and my mission speaks of a global citizen who walks through the art world, heart first. Whether girls are victims of the penal system, probation, child marriages, ritualist surgeries, felony defenders, child soldiers, child sex slaves, or trapped in the human trafficking industry, it is their lives I see. I speak about the exploitation of their female bodies. Clay is my primary material using the sculptural language, in addition to mixed media material like cloth, dirt, glass, etc. My work is fueled by their human stories."