Top of page
Margaret Bohls
Bohls makes hand-built pottery that she shows and sells both locally and nationally. She received her B.F.A. from Rhode Island School of Design in 1989, and her M.F.A. from Louisiana State University in 1995. She has been teaching ceramics at the college level for 20 years. She is currently associate professor of art at the University of Nebraska-Lincoln. She previously taught at the University of Minnesota from 1998 to 2011, and has taught as visiting faculty at Ohio University, Penn State University, and NSCAD University in Halifax. She has given lectures at universities across the U.S. and has taught hands-on workshops at art centers such as Greenwich House Pottery in New York; Anderson Ranch Arts Center in Aspen, Colorado; and Penland School of Crafts in North Carolina. Bohls' work has been shown in over 100 group and solo exhibitions since 1995 and is included in the permanent collections of the Minnesota Museum of American Art, the American Museum of Ceramic Art (AMOCA), and in the Sonny and Gloria Kamm Teapot Foundation Collection. She has written articles for the Journal of the National Council for Education on Ceramic Arts and Pottery Making Illustrated, and her ceramic work has been featured in periodicals such as Ceramics Monthly and Studio Potter Magazine.
Demonstration description:
In this series of demonstrations, I will discuss and demonstrate the methodology I employ to create the vessels and trays that comprise the work in the "Modernist" series.  This work is largely based on Modern Era ceramics and silver tea and coffee sets made in Europe and America. I will share my drawings and demonstrate the coil and pinch technique that I used to build these forms, including the development of handles, lids, and spouts. I will also share my process for creating the large trays on which the vessels sit.
Artist Statement:
"My work is grounded in an abiding interest in historical vessel forms, and in the social context of these objects. My methodology for creating new work often begins with a study of a particular set of historical vessels. I strive to identify a set of physical, formal attributes of these objects that visually communicate something about the culture that produced them or the era during which they were created. I do this through a close visual examination of the objects and by making drawings of the objects. In these drawings I attempt to distill the objects down to what I consider to be their critical visual and formal characteristics. These drawings become the basis for the creation of a series of ceramic forms of my own."
"Modernist" Series
This body of work began in 2013. This work consists of what I consider to be sculptural representations of utilitarian forms arranged on, and framed by, large stoneware trays. The forms are largely based on European, Modernist era silver tea, coffee, and chocolate sets. My interest is in the abstraction and repetition of forms and visual motifs, and in the "still life" like arrangement of these forms. However, I am also interested in the "loaded" nature of these forms. They carry references to the classism of the societies in which these forms were developed to signify status and worldliness, as the drinking of tea, coffee, and chocolate developed from trade with and colonization of Asia and the new world. The materials from which they were made, porcelain and silver, were also intended to convey the status of their owners. Historically these forms were elaborately ornamented and adorned with form language and imagery that reinforced these ideas, although most of these signifiers have been deliberately erased in their modern manifestations, as the rituals of their use have become less practiced.  My work, like its modern inspirations, is quite formalist and the actual function of this ware is vestigial. Unlike my historical inspirations, in my "modernist" pieces I place a deliberate emphasis on process and substance. The forms are pinched up from moist clay and the glazes are chosen and applied to emphasize their substance and character. The forms are left unrefined and retain the repetitive marks of the pinching process. The glazes are thick and have rich visual texture. The dark, coarse stoneware trays are left unglazed. These sets are oversized, to emphasize their weight and physical presence.
---
Chotsani Elaine Dean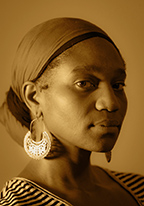 Dean is an artist and assistant professor of ceramics at the University of Minnesota. She received her B.F.A. in ceramics from Hartford Art School and Master of Fine Arts from Sam Fox School of Art at Washington University in St. Louis. Dean completed the John Michael Kohler Artist Residency, Pottery. She is co-author, with Donald Clark, of an upcoming book featuring Black contemporary ceramic artists, anticipated publishing fall 2022 by Schiffer Publishing, and has written for Studio Potter. In 2014, Dean was the inaugural MJ DO Good resident at Red Lodge Clay Center in Montana. In 2012 she was awarded a Teaching/Research Fulbright Scholar grant in India at host institution Banaras Hindu University in Varanasi, during which time she traveled throughout India conducting workshops and lectures, and artist-in-residence at Clayfingers Pottery, Thrissur, Kerala. Dean has lectured and exhibited widely, and has been selected for the 2019 South Carolina Biennial at the 702 Center for Contemporary Art, McMaster Gallery at the University of South Carolina; Appalachia State University; Kriti Gallery, Varanasi, India; Art Chamber, Goa, India; Aurodhran Gallery, Pondicherry, India; Hans Weiss Newman Space, Manchester, CT; Windsor Art Center, Windsor, CT; Hunterdon Museum of Art, Clinton, NJ; Gallery on the Green, Canton, CT; Silo Gallery, New Milford, CT; among others. In 2010, Dean was awarded a Connecticut Arts Grant from the state of Connecticut. She has taught at various institutions including Three Rivers Community College, University of Connecticut, Connecticut College, Quinnipiac University, and Hartford Art School, and was studio manager at Wesleyan Potters in Middletown, CT.
Demonstration description:
During my demonstration, I will share various processes I use in my studio practice. For example, I will share how I prepare and work with paper-clay slip for my spoon pieces. I will show how I use oxides and underglazes to activate and decorate the surfaces of my forms' surfaces and talk about how working with different clay bodies informs and creates elements of discovery in my work. I will also be using the wooden block stamps I made during my Fulbright in India to delve deeper into the research that informs my work and practice. I will demonstrate how I generate forms using 3D digital design software, forms that I then 3D print and use to make molds. Also, I will be casting molds I made during and after my residency at Kohler.
artist statement: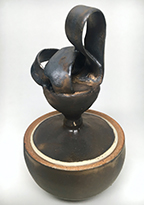 "The many, complex, layered realities of my communal ancestry's history and visual archives set forth the foundations of creative purpose in my studio practice and research. A significant part of my research is rooted in quilts from slavery (chattel enslavement) thru the Antebellum period, made on and off cotton plantations by enslaved and free African Americans through the mid-20th century. These quilts and the material that gives them life, cotton, serve as a historical source and point of departure I use to explore and comprehend this dreadful time in America's history. These quilts are of particular interest to me for their uniqueness in origin, evolution, aesthetics, visual endurance, range of creative techniques, and processes. Also important is the commodity, cotton, from which the textiles are made to make the quilts and what my enslaved ancestors cultivated and picked. Cotton, the commodity at the center of my ancestry, led me to the global history, trade, and impact of cotton through its production to textiles and trade. Encountering the various cultures, economies, and time periods connected to cotton continues to take through nonlinear timeline journeys from the past to the present. These diverse and interconnected histories permeate the work I make.
Quilts from these time periods reveal and preserve the historical blending of aesthetics, emergence of distinct material culture and traditions. The visual and historical synthesis of various craft traditions, historical events, and commodities, quilts, the cotton trade, the Civil War to the Civil Rights Movement, and the vast realm of textiles inform and shape my visual ideas and approach to the spectrum of ceramic materials and mixed media.
Adaptation, resourcefulness, survival, and triumph are what I appreciate when I consider the fullness of these quilts, their makers, and the history from which they emerge and have moved through time. My work begins with the realities of those who sewed and stitched more than quilts; those who stitched and sewed a resolute history and legacy that has gifted freedom, personhood, and rich visual language to our world. The fullness of this important history I am indebted to has afforded me deep meaning as an artist. I strive to sustain and honor the many gifts of my personal and collective history embedded in my communal ancestry's chronicles."
---
Lorna Meaden
Meaden grew up in the western suburbs of Chicago. She received a B.A. from Fort Lewis College in 1994, and an M.F.A. in ceramics from Ohio University in 2005. She has been a resident artist at the Archie Bray Foundation in Helena, Montana, and at the Anderson Ranch Arts Center in Snowmass Village, Colorado. Her work is represented my several galleries nation-wide. She has taught numerous workshops nationally and internationally, in addition to being featured as a demonstrator and lecturer at the National Council on Education in Ceramic Arts, and Utilitarian Clay V: Celebrate the Object. Meaden is currently a studio potter in Durango, Colorado.
Demonstration Description:
I will demonstrate the making of my functional pots on and off the potter's wheel, throwing and altering porcelain clay. After coming off the wheel, I will trim, assemble, and decorate the pots. I will begin with the basics—cups, and bowls, and then move on the more complex forms—pitchers, teapots, ewers, and spoons.
Artist Statement: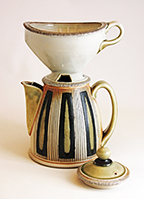 "My work is soda-fired porcelain. It begins with the consideration of function, and the goal is for the form and surface of the pots to be integrated. Making the work starts with a three-dimensional division of space, continues with drawing on the surface, and finishes with the addition of color.
New ideas are gradually incorporated into previous bodies of work through making. Source information for my pots can be motivated by something as simple as looking at the patterns in the stacked bricks of my kiln to something as complex as the forms in 18th century European manufactured silver.
I experience the evolution of my work through creative repetition in the studio. I am interested in having my work display both practical and extravagant attributes. I am drawn to work that is rich in ornamentation, with lavish use of materials—both scarce in a culture of mass production.
Functional pottery, in its connection to sustenance, closely relates to the human body, revealing what it means to be human. Handmade pots are potent in their power to reveal the extraordinary, within the ordinary. I am driven by the insatiable pursuit of the "good pot". Successful in terms of tactile, visual, and functional attributes; lastingly significant when packed with the passion of the maker—reflecting humanity, and contributing to the craft."
---
Linda Sormin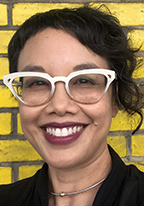 Born in Bangkok, Sormin moved to Canada with her family at the age of five. She has a B.A. in English literature and worked in community development for four years in Thailand and Laos. She studied ceramics at Andrews University (B.A., English literature, 1993), Sheridan College (ceramics diploma, 2001), and Alfred University (M.F.A., ceramic art, 2003).
Sormin's work has been exhibited nationally and internationally, most recently at United Contemporary (Toronto, ON), Patricia Sweetow Gallery (San Fransisco, CA), and Ferrin Contemporary (North Adams, MA). She is currently an artist-in-residence at the European Ceramic Workcentre in the Netherlands, creating new work for the group exhibition Ceramics in the Expanded Field, opening Oct. 16, 2021 at MASS MoCA, North Adams, MA.
Sormin has taught at Emily Carr University, Rhode Island School of Design, Sheridan College, and the New York State College at Alfred University. She lives and works in New York City, and is associate professor of studio art at New York University
Demonstration Description:
To share her improvisational, experimental approaches to process, Sormin will build extruded, press-molded, and hand-pinched forms, exploring themes of fragility, risk, and regeneration through different clay bodies/architecture and abstract form. Reflecting the different ways individuals experience the world and gather information, a variety of clay bodies and techniques will mix and overlap.
Artist Statement:

"Sormin's sculptures are a journey through personal archeology. Her open-ended ceramics enfold many voices and labors, from the donated memorabilia of friends and strangers in distant places, to the hands of those assisting, to the dumpster diving, searching for the discarded. The complex membranes of pinched clay provide a porous conduit bridging and breaking bonds, entwining stories and histories among those who define themselves through their separations.
Born in Thailand, working in North America, Europe, and Asia, Sormin is influenced by kinetic energy, complexity, and disparate social/cultural/visual forces. While migration and identity form the backbone of the work, it's the disruptive dissonance within her balletic balance that breathes life. The technical considerations of how her work evolves are never far from the stories within. Multiple firings, various clays, smooth and rough surface, glaze, contrasting color, and cast away materials are all integral elements in forming the nonlinear narratives of discrete sculpture, and immersive installations.
Through objects and site-responsive installations, her work explores issues of fragility, aggression, migration, survival, and change."
---
Mary Dana Hinton, Ph.D., President, Hollins University
Keynote: "My Mother's Hands: The Role of Art in the Fashioning of a Life"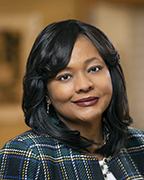 Mary Dana Hinton, Ph.D., is the president of Hollins University. She is a member of the board of directors for the American Association of Colleges and Universities, Interfaith Youth Core, Saint Mary's School, and the University Leadership Consortium. She chairs the AAC&U Presidents' Trust and is also a member of the Lumina Foundation's Quality Credentials Task Force. In July 2021, she began a three-year term as an at-large board member with the National Association of Independent Colleges and Universities.
Hinton's scholarship focuses on leadership and inclusion in higher education. She is the author of The Commercial Church: Black Churches and the New Religious Marketplace in America and is a frequent op-ed contributor across higher education publications.
Hinton earned a Ph.D. in religion and religious education with high honors from Fordham University, a Master of Arts degree in clinical child psychology from the University of Kansas, Lawrence, and a Bachelor of Arts degree in psychology from Williams College. She also holds honorary Doctor of Humane Letters degrees from Misericordia University and the Massachusetts College of Liberal Arts.
Hinton is the recipient of the Bicentennial Medal from Williams College, and was recognized with Credo's eighth annual Courageous Leadership Award.
---