Art history degree students study works of art in their social, political, and intellectual contexts. They learn to think, read, and write about art and interpret visual imagery.
Tracks
Art History Major
Students progress through chronological survey courses into upper-level seminars and research projects. The art history major culminates in the senior seminar, which includes the public presentation of research.
Art History Minor
The art history minor gives you a broad overview of some more advanced courses. Specialize in a particular period or style, or expand your knowledge to multiple topics.
Certificate Program
What You'll Learn
Hollins: Too Great to Keep to Ourselves
Hollins just isn't one thing. It's different for every one of us, and it changes on a daily basis. It's in that moment when Hollins becomes more than a school. Your classmates become our sisters. Your professors become your mentors. Classrooms and studios become your dorm room. Moody Plaza becomes your personal patio, and the dining hall becomes the main source of your entertainment. It's when you unconsciously call Hollins home.
Gabrielle Awuma, development assistant, Phillips Collection, Washington, DC
Faculty Mentors Help You Grow Skills, Knowledge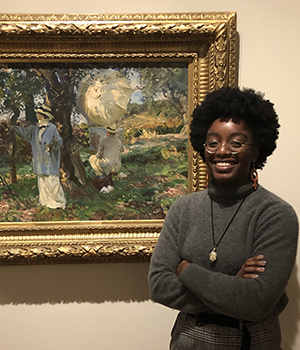 The art history program at Hollins is one of the university's most multi-faceted programs. Through art you will learn a combination of history, political science, sociology, languages, and gender and women studies. The program helped develop my critical thinking and communication skills, all while giving me the expertise needed to navigate today's visual media landscape. The best benefit of a more intimate department is receiving one-on-one mentoring: Professors Kathleen Nolan and Genevieve Hendricks have a keen sense of your gifts and offer constant encouragement, both pre- and post-graduation.
Natasha Campbell, fellowship coordinator, Virginia Museum of Fine Arts, Richmond
What Makes Art History at Hollins Unique
Our senior year experience is as strong as that of any college, anywhere in America. Most students encounter their discipline's critical issues for the first time in grad school, and the fact that our students are getting that in the fall of their senior year means they stand out in the graduate application process and are well prepared once they get there.
Kathleen Nolan