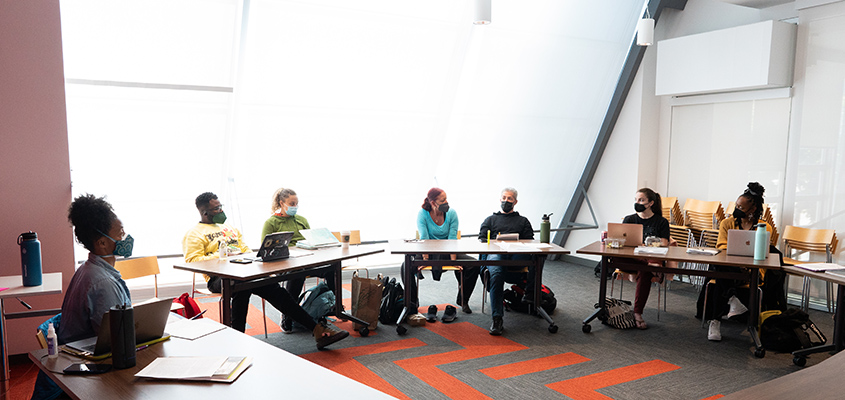 All students of Hollins' M.F.A. program in dance travel off site to dance centers throughout the world. In an effort to expand experiences beyond the campus setting, students will study, present their work in various settings, view concerts, and immerse themselves in specially designed "study tracks."
Specifically designed to promote exchange within a larger dance community and to better understand the internationalization of dance education, these residencies open pathways that will create lifelong relationships and opportunities.
European dance study – plovdiv, bulgaria
(Beginning summer 2023)
Students travel to dance centers throughout the world to study with members of the thriving international professional and academic community. Students experience mentored studio time and the facilitation of a program of creative work, and take part in discussions and readings. Past residencies have taken place in France, Austria, Belgium, and Germany. Beginning summer 2023, the M.F.A. Dance European Study will locate in Plovdiv, Bulgaria.
Boyan Manchev, European Study Co-Curator
Boyan Manchev is a philosopher and professor at the New Bulgarian University (Sofia) and at the HZT – UdK (Berlin). He is also former director of program and vice president of the International College of Philosophy in Paris. His actual research, which proposes the perspective of a radical materialism, is focused on the fields of ontology, philosophy of art, and political philosophy. Manchev has lectured widely at European, North-American, and Japanese universities and cultural institutions. He has organized and/or collaborated on a number of projects, congresses, and public forums dealing with philosophy, art, and politics at the CIPh (Paris), ZKM (Karlsruhe), Tanzquartier (Vienna), Apexart (New York), CND (Paris), BAK (Utrecht), UTCP (Tokyo), Haus der Kulturen der Welt (Berlin), among others. He curated the exhibition Out of Time at the Sofia City Art Gallery (March – April 2011). He has participated as theorist, dramaturge, or performer in theatre and contemporary dance projects, including Tim Etchells and Adrian Heathfield's The Frequently Asked, Boris Charmatz's expo zero and Poster session "Mouvement" for the Festival d'Avignon, and Ani Vaseva's Frankenstein, A Dying Play. Manchev is the author of seven books and more than 100 book chapters, catalogues, and other publications in various languages. In the last years he has appeared in Logic of the Political (Sofia: Critique&Humanism, 2012); Miracolo (Milano: Lanfranchi, 2011); L'altération du monde: Pour une esthétique radicale (Paris: Lignes, 2009); La Métamorphose et l'Instant – Désorganisation de la vie (Paris: La Phocide, 2009); Rue Descartes 64: La métamorphose, ed. by B. Manchev (Paris: PUF, 2009); Rue Descartes 67: Quel sujet du politique?, ed. by G. Basterra, R. Ivekovic, and B. Manchev (Paris: PUF, 2010). His book The Body–Metamorphosis (Sofia: Altera, 2007) deals extensively with contemporary art, performance, and dance.
---
Ani Vaseva, European Study Co-Curator
Ani Vaseva was born in 1982 in Sofia. She graduated in theatre studies and theatre directing at NATFA, Sofia. She is a theatre director, the author of theatre plays of critical and theoretical texts on dance and theatre, and holds a Ph.D. in performance studies from the Bulgarian Academy of Sciences. Among her visual projects are Still Here. On The Meteor Arhcipelago (together with Georgi Sharov, Museums Night, Plovdiv, 2015), Gorgons In The Depot, or Apocalypse Now (exhibition curated together with Monika Vakarelova and Boriana Rossa, part of The Other Eye project of Maria Vassileva at the Sofia Municipal Gallery, 2013), In-Out (installation, part of the Love exhibition, curated by Maria Vassileva, Raiko Alexiev gallery, 2012), Power Fridge Points (together with Natalia Todorova and Ivana Nencheva, Tanzquartier Wien, 2011), The War Of The Little Girls (together with Ivan Donchev and Boyan Manchev, Vaska Emanuilova gallery, 2010) etc. Among her last performances are A Play For Us (2018), Roadtrip to Hell (2017), The Murderer And The Whore (2017), Lovecraft (2016), Total Damage (2016), Maldoror (2015), A Play for You (2014). Her book What Is Contemporary Dance (2017) explores the complex processes and conflictual ideologies that stand behind the concept of contemporary dance. Between 2015 and 2018 she has been teaching history and theory of theatre and literature at New Bulgarian University and the Luben Groys Theatre College, where together with Leonid Yovchev she was leading an acting class in 2017-18.
---
San francisco dance study
(Summer 2022)
---
Maurya Kerr, San Francisco Study Curator
Maurya Kerr is a bay area-based choreographer, performer, educator, poet, and the artistic director of tinypistol. Much of her work, across the disciplines of language, movement, and film, is focused on Black and brown people reclaiming their birthright to both wonderment and the quotidian. Kerr was a member of Alonzo King LINES Ballet for 12 years, an ODC artist-in-residence from 2015 to 2018 and holds an M.F.A. in dance from Hollins. With Leyya Mona Tawil she is co-curating ODC Theater's 2023 performance season. She is on faculty with the LINES Ballet Education Programs and teaches, choreographs, and conducts residencies nationally. Most recently Kerr has performed in w o w m o m (Larry Arrington, 2022), felt room (BodyCartography Project, 2018), and Deep South (Alex Ketley/The Foundry, 2017). In 2017 she cofounded the tiny little get down, a quarterly dance party intended to defiantly and subversively fortify otherness through embodied joy and the power of the collective. Kerr's poetry has been nominated for a Pushcart prize and appears or is forthcoming in multiple journals, including Magma Poetry, Tupelo Quarterly, and the anthology The Future of Black: Afrofuturism, Black Comics, and Superhero Poetry. Kerr's work was recently honored as a runner-up in the 2021 Tom Howard/Margaret Reid Poetry Contest and chosen by Jericho Brown as a runner-up in Southern Humanities Review's 2021 Auburn Witness Poetry Prize. She was a 2021/22 UC Berkeley ARC (Arts Research Center) Poetry and the Senses Fellow, and her first chapbook, MUTTOLOGY, is forthcoming with Harbor Editions in 2023. www.tinypistol.com
---