kitlit@hollins Symposium
Registration required for all Symposium events.
Thursday, July 7, 7:30 p.m.
Author-Illustrator Grace Lin
Before Grace Lin was an award-winning and New York Times bestselling author/illustrator of picture books, early readers, and middle grade novels, she was the only Asian girl (except for her sisters) going to her elementary school in Upstate New York. That experience, good and bad, has influenced her books—including her Newbery Honor Where the Mountain Meets the Moon, her Geisel Honor Ling & Ting, her National Book Finalist When the Sea Turned to Silver, and her Caldecott Honor A Big Mooncake for Little Star. But, it also causes Lin to persevere for diversity as an occasional New England Pubic Radio commentator and when she gave her TEDx talk "The Windows and Mirrors of Your Child's Bookshelf," as well as her PBS NewsHour video essay "What to do when you realize classic books from your childhood are racist?" She continues this mission with her two podcasts kidlitwomen* and Book Friends Forever. In 2016, Lin's art was displayed at The White House and Lin, herself, was recognized by President Obama's office as a Champion of Change for Asian American and Pacific Islander Art and Storytelling. She will give the opening keynote lecture at the first kidlit@hollins Own and Other Voices Symposium, and her work will be on display in the Eleanor D. Wilson Museum.
---
Friday, July 8, 7:30 p.m.
Scholar Philip J. Deloria 
Philip J. Deloria is Harvard University's first tenured professor of Native American History. His research and teaching focus on the social, cultural, and political histories and relations among American Indian peoples and the United States, as well as the comparative and connective histories of indigenous peoples in a global context. His first of many books, Playing Indian (1998), traced the tradition of white "Indian play" from the Boston Tea Party to the New Age movement. He is currently completing a project on American Indian visual arts of the mid-twentieth century and serves as a trustee of the Smithsonian Institution's National Museum of the American Indian, where he chairs the Repatriation Committee. Deloria will speak to our theme by connecting childhood studies with his past and current research interests.
---
Saturday, July 9, 7:30 p.m.
Librarian/Critic/Translator Sara Lissa Paulson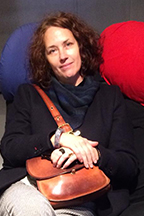 Sara Lissa Paulson is author of the January 2019 article "Independent Publishers of International Children's Books" in Translationista and can speak to our theme from various angles: as City-As-School High School librarian developing an equitable and reflective collection in Spanish and English, adjunct professor at Queens College Graduate School of Library & Information Studies, budding Spanish to English translator of children's books, and reviewer of diverse texts for School Library Journal. Her first official library job was at the New York Public Library's World Languages Collection when housed in the beloved Donnell Library Center. She double-majored in comparative literature and Spanish at UNC-Chapel Hill, holds a Spanish Bilingual Teaching Certificate from San Francisco State University, and a MSLIS from Pratt Institute. She is very interested in the rights of nature movement and amplifying that voice in children's books.