July 22, 2023
Information to come. Below is information from July 2022.
---
The road goes ever on: travels and transformations in children's literature
July 23, 2022
Keynote Speaker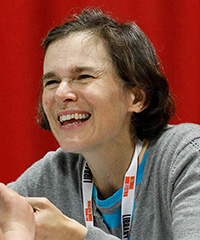 Cece Bell lives in an old church in Virginia and works in a new-ish barn right next door. She met her husband, writer Tom Angleberger, at the College of William and Mary, where they were both art majors. Cece went on to get a graduate degree in illustration and design at Kent State University. Cece became a full-time author and illustrator after many years working as a freelance illustrator and designer for all kinds of nutty projects. Her books include the Newbery Honor and Eisner-winning graphic novel El Deafo, the Geisel Honor-winning Rabbit & Robot: The Sleepover, Rabbit & Robot and Ribbit, I Yam a Donkey, Bee-Wigged, Itty Bitty, and the Sock Monkey series. She has also created books with Tom, including Crankee Doodle and the Inspector Flytrap series.
About the conference
The Francelia Butler Conference is a one-day, student-run conference dedicated to the study of children's literature. Graduate students may submit creative and critical papers and children's book illustration to be critiqued by a panel of distinguished judges. The Shirley Henn Awards, the Margaret Kates Award, and the Amanda Cockrell Award are given to the top submission in each category. Another tradition, the Silent Auction, helps raise funds for future conferences.
About Francelia Butler
Francelia Butler pioneered trails for the scholarly criticism of children's literature. She created the Children's Literature journal and was a founding member of the Children's Literature Association (ChLA). In 1992, at Butler's request Hollins launched a children's literature graduate program when the university became the sponsor for her scholarly journal. To this day, the graduate students honor Francelia Butler by running a conference in her name, continuing her vision to blaze trails dedicated to the creativity, insight, and academic study of children's literature.
About Shirley Henn
Shirley Henn was a retired librarian who worked at Hollins for years. She was very interested in the Children's Literature Program and donated every year to it for the critical and creative awards presented during the Francelia Butler Conference. When she died, she left additional possessions to the university, and the department decided to name the critical and creative awards in her honor.
About Margaret Kates
The art award prize was originally donated by Margaret Kates, a donor who firmly believes in supporting literacy and expression through the arts for children. In 2007 the conference's silent auction took on the role of funding the Margaret Kates Award and supporting the pursuit of imagination and story in art.
The Amanda Cockrell Award
The Amanda Cockrell Award, named in honor of the founding director of the Hollins Graduate Programs in Children's Literature, recognizes the creativity, diversity of talent, and drive of current graduate students. More info 
Volunteer opportunities
The conference is run completely by graduate students of Hollins' Children's Literature program. There are numerous volunteer opportunities, including committees dedicated to art and silent auction, food and decoration, entertainment, reading, future conference planning, technology, and beyond. The conference provides students experiences to collaborate with peers and build their resumes.
If you'd like more information about volunteer opportunities, feel free to contact any of the conference co-chairs.