Free and open to the public by registration only. All times are given in EDT. Events will be held on Zoom. To register and receive a link, send an email to kidlit@hollins.edu including the date and event in the subject line. In the body, please provide your name, address, phone number, and, if different, the name on your Zoom account.
2021 Writer-in-Residence
Monday, June 28, 7:30 p.m., registration required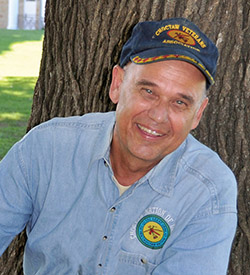 Tim Tingle is an Oklahoma Choctaw and a world-renowned author and storyteller. He has twice won the American Indian Youth Literature Award for How I Became a Ghost in 2014 and House of Purple Cedar in 2016. His first children's book, Crossing Bok Chitto, garnered over 20 state and national awards and was an Editor's Choice in The New York Times Book Review. He has spoken at the Library of Congress, performed at the Kennedy Center in Washington, D.C., and completed eight speaking tours for the U.S. Department of Defense, performing stories to children of military personnel. Tingle received his M.A. in English literature at the University of Oklahoma, with a focus on American Indian Studies and a thesis on Choctaw Oral Literature.
---
2021 Scholar-in-Residence
Monday, July 5, 7:30 p.m., registration required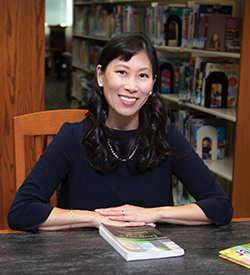 Sarah Park Dahlen is an associate professor in the M.L.I.S. program at St. Catherine University. She coedited Diversity in Youth Literature and coedits Research on Diversity in Youth Literature. Her next books address race in the wizarding world with Ebony Elizabeth Thomas and Asian American youth literature with Paul Lai.
Park Dahlen will be in virtual residence for one week and will give a public lecture and meet individually with students for consultation on scholarly manuscripts.
Photo credit: Sarah Whiting, MN Women's Press.
---
2021 Visiting Author-Illustrator
Wednesday, July 7, 7:30 p.m., registration required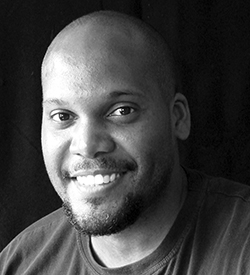 R. Gregory Christie is an award-winning children's book illustrator and lecturer with a long track record of creating uniquely inspiring moments through art. His dozens of children's books include Freedom in Congo Square, winner of the 2017 Charlotte Zolotow Award and an Honor Book for both the Caldecott and the Coretta Scott King Awards. He is a NAACP Image award winner and was the artist for the United Postal Service's Kwanzaa Stamp in 2013. Christie has done everything from John Coltrane album covers to animated films on Netflix. His lectures on art, diversity, and literature are family friendly and he has made it his mission to educate and connect audiences to books in a way that is both fun and engaging. He will give a public lecture and visit online illustration classes.
https://www.rgregorychristie.com/
---
Francelia Butler Conference Keynote Speaker
Saturday, July 24, 8 a.m. – 5 p.m., registration required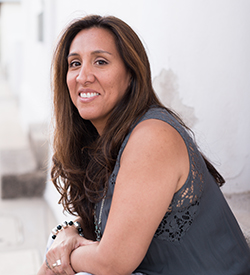 Juana Martinez-Neal is the recipient of the 2019 Caldecott Honor for Alma and How She Got Her Name (Candlewick Press), her debut picture book as author-illustrator. She is also the recipient of the 2020 Robert F. Sibert Medal for Fry Bread: A Native American Story (Roaring Brook) and the 2018 Pura Belpré Medal for Illustration for La Princesa and the Pea (Putnam). Juana is the illustrator of La Madre Goose (written by Susan M. Elya, Putnam/Penguin 2016), Babymoon (written by Hayley Barrett, Candlewick 2019) and Swashby and the Sea (written by Beth Ferry, Houghton Mifflin Harcourt 2020).
Juana was named to the International Board on Books for Young People (IBBY) honor list in 2014, and was awarded the SCBWI Portfolio Showcase Grand Prize in 2012. She was born in Lima, the capital of Peru, and now lives in Connecticut, with her husband, three children and two dogs. https://juanamartinezneal.com/
---
lecture series
Illustrator Christopher Denise
Friday, June 25, 7:30 p.m., registration required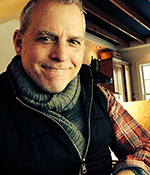 Christopher Denise, B.F.A. in illustration, Rhode Island School of Design, is the illustrator of many critically acclaimed books for young readers including Alison McGhee's Firefly Hollow, Rosemary Wells' Following Grandfather, and Anne Marie Pace's Groundhug Day, as well as several in Brian Jacques's Redwall series. His books have appeared on The New York Times bestseller list and have been recognized by Bank Street College of Education, Parents' Choice Foundation, and the Society of Illustrators. His extensive teaching background includes courses for the Rhode Island School of Design, and now he teaches Children's Book Media for the graduate programs in children's writing and illustrating at Hollins. In his Chalk Talk he will show and tell about the process of creating his latest work, Knight Owl.
Alumni Speaker Kristy Kilfoyle
Wednesday, June, 30, 7:30 p.m., registration required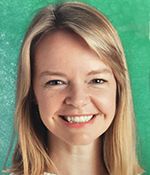 Kristy Kilfoyle is the director of libraries at Canterbury School in Fort Myers, Florida. She came to Canterbury by way of the Lee County Library System, where she served as programming coordinator in charge of all kids, teen, and adult programs. She graduated from Hollins with an M.A. in children's literature in 2006. She served on the 2011 Mildred L. Batchelder Award Committee, which was a highlight of her professional career after having studied children's literature under the legendary J. D. Stahl at Hollins. She is now serving on the 2022 Newbery Award Committee. She will present "The Inner Workings of Award Committees."
Author-Illustrator Olivia Stephens
Friday, July 9, 7:30 p.m., registration required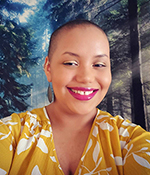 Olivia Stephens is a graphic novelist, illustrator, and writer from the Pacific Northwest. She earned her B.F.A. in illustration from the Rhode Island School of Design in 2017. Stephens has created work for a number of sites and publications, including The New York Times, The Guardian, and FIYAH Magazine of Black Speculative Fiction. Currently, Stephens is a 2019-20 Literary Fellow for the Tulsa Artist Fellowship. Her debut graphic novel, Artie and the Wolf Moon, comes out from Lerner Books in fall 2021. Stephens will give a public lecture and a workshop for students.
https://www.olivia-stephens.com/
Alumni Author Victoria Piontek
Monday, July 12, 7:30 p.m., registration required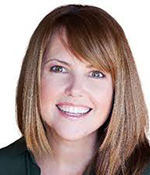 Victoria Piontek M.F.A. '14 is the author of The Spirit of Cattail County (Scholastic Press, 2018), a ghostly story of magic and friendship set in the Everglades. The Spirit of Cattail County was a Bank Street College Best Book of the Year (2019) and selected for the Sequoyah Children's Masterlist (2019-20). She is also a literary associate for Executive Agent Laura Rennert at the Andrea Brown Literary Agency. Prior to her current roles, Piontek had a myriad of other jobs, from waitressing to sales, but her favorite occupation was teaching middle school children in New York City as a Teach for America Corps Member. She holds an M.F.A. in creative writing for children and young adults from Hollins, and an M.S.T. in education from Pace University. Her forthcoming novel, Better with Butter, will be released in July and we will be among the first to hear about it!
http://www.victoriapiontek.com/
Professional Relationships at Candlewick Press: A Panel Discussion
Friday, July 16, 7:30 p.m., registration required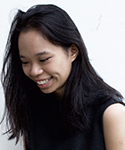 Priscilla Tey is an illustrator and picture-book maker. A graduate of the Rhode Island School of Design (RISD), she loves woolgathering, writing stories, and maintains her sheep obsession at healthy levels. Her first picture book, In-Between Things, was published by Candlewick Press in 2018. Her second book, Twitchy Witchy Itch, is due to be released in July 2021. Tey currently resides in her native country of Singapore, and teaches art to students of various ages when she is not illustrating.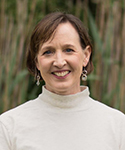 Mary Lee Donovan earned an M.A. in children's literature from the Center for the Study of Children's Literature in 1986. She has been at Candlewick Press since 1991, where she is currently editorial director. Prior to that, she spent seven years in the children's division of Houghton Mifflin, and worked for many years as a bookseller at The Children's Book Shop. She is the editor of many award-winning books, including the Caldecott Honor-winning title How She Got Her Name by our upcoming FBC keynote speaker, Juana Martinez-Neal.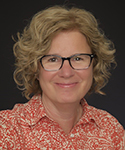 Ann Stott is the executive creative director at Candlewick Press, where she has designed and art directed many award-winning children's books, including the Caldecott Medal Winner This is Not My Hat by Jon Klassen and books by our upcoming FBC keynote speaker, Juana Martinez-Neal. Prior to working in publishing, Stott was a designer and art director in the advertising and consumer product industry. She graduated from the University of Massachusetts/Dartmouth and received her master's degree in education from Lesley University. She has also written several picture books, the latest being Nana Says I'll Be Famous One Day, illustrated by Andrew Joyner.
Book Designer Maeve Norton
Friday, July 30, 12 noon, registration required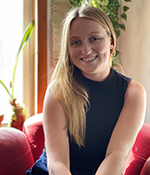 Maeve Norton is an award-winning illustrator and designer based in Brooklyn, NY, who specializes in children's media and hand lettering. After graduating from Pratt Institute in 2015, she found herself at Scholastic where she has been happily designing middle grade and young adult novels ever since. Aside from designing books, she is a founding member of the artist collective Fem Foundry who aim to promote collaborative work and organize benefit gallery openings for different charities. She is also an active children's book illustrator represented by Lori Kilkelly at LK Literary Agency. When not knee-deep in books, Norton can be found making bracelets or soaking up the sunshine on her stoop.
---
Recent Summer guests
David Almond, writer-in-residence
Tom Angleberger, visiting writer
Kathi Appelt, writer-in-residence
Mary Jane Begin, author-illustrator
Cece Bell, visiting writer
Jennifer Brody, visiting writer
Andrea Brown, literary agent
Katharine Capshaw, scholar-in-residence
Veronica Chambers, author and editor
Dhonielle Clayton, COO of We Need Diverse Books and co-founder Cake Literary
Nicole de las Heras, art director
Anika Aldamuy Denise, writer-in-residence
Katherine Erskine, writer-in-residence
Stephen Fraser, literary agent
Patricia Lee Gauch, author and editor
Frances Gilbert, associate publishing director, Random House Books for Young Readers
Marah Gubar, Francelia Butler Conference keynote speaker
Jane Harrington, author
Ben Hatke, author/illustrator-in-residence
Maude Hines, scholar-in-residence
Kaitlyn Johnson, literary agent
Kenneth Kidd, scholar-in-residence
Uma Krishnaswami, Francelia Butler Conference keynote speaker
Kara LaReau, writer-in-residence
Brian Lies, visiting illustrator
Laurent Linn, art director, Simon & Schuster
Mallory Loehr, vice president and publishing director, Random House
Guadalupe Garcia McCall, author
Faith Mendelssohn, scholar-in-residence
Kathleen Merz, editor
Kelly Murphy, author-illustrator-in-residence
Kristen Nobles, art director
Han Nolan, writer-in-residence
Anna Olswanger, literary agent
Nicole Panteleakos, author/M.F.A. student
John Rocco, visiting illustrator
Eric Rohmann, visiting illustrator
Judy Schachner, visiting illustrator
Eric Smith, literary agent Ali Standish, visiting writer
Maggie Stiefvater, visiting writer
Shada Strickland, visiting illustrator
Roberta Seelinger Trites, scholar-in-residence
Charles Vess, visiting illustrator
Nancy Willard, writer-in-residence
Terri Windling, author and editor
Ashley Wolff, author-illustrator
Jack Zipes, Francelia Butler Conference keynote speaker